Con­tem­po­rary is not a genre I usu­ally read. It's not because I think any less of the genre, but few seem to hold my atten­tion as well as some­thing super­nat­ural or sci­ence fic­tion related. What nor­mally hap­pens is that I'll get dis­tracted and find myself re-reading the same sen­tence or para­graph over and over again. That never hap­pened with
Wanderlove
. Unfor­tu­nately, lately I've been find­ing it increas­ingly dif­fi­cult for me to find time through­out my day to sit and read. And I felt myself get­ting angry for not hav­ing more time to fin­ish this book. But, in a way I'm kind of happy I read it as slowly as I did because I savored every minute alone with
Wan­derlove
.  This book was so amaz­ing, so deep, so beau­ti­ful and I'm very happy I stepped out­side of my com­fort box to read it.
Wan­derlove
 tells the story of Bria San­doval, an 18-year-old, newly grad­u­ated, high school stu­dent, as she trav­els to Cen­tral Amer­ica. At first we aren't told why she decided to take this trip, but what is clear is that she has given up her art and despite her friends back­ing out of the planned trip at the last minute, she decides to go alone. It isn't until  she begins jour­ney­ing with back­pack­ers Rowan and Star­ling that we are privy to Bria's lay­ers. It is then that we, and Bria her­self, dis­cover how truly bro­ken she is. This book cov­ers a myr­iad of top­ics such as emo­tional abu­sive rela­tion­ships, let­ting go of the past, for­giv­ing your­self, gain­ing self-confidence, but ulti­mately, self-discovery.
The Set­ting and the Plot:
I'm not in any shape or form a travel savvy per­son. In fact, the clos­est I've ever come to leav­ing the coun­try was a fam­ily vaca­tion where we drove to Canada's Nia­gara Falls in an RV.  I've thought about trav­el­ing to dif­fer­ent coun­tries, but I often run into to same prob­lem: How will I get there? Going any­where would require either a plane ride or trav­el­ing on a boat. Con­sid­er­ing my first expe­ri­ence with a plane involved watch­ing a light­ning storm over the Chesa­peake Bay, I'm not exactly rush­ing to my air­port. Yet, when I think of sail­ing on a boat I can't help but to think of this: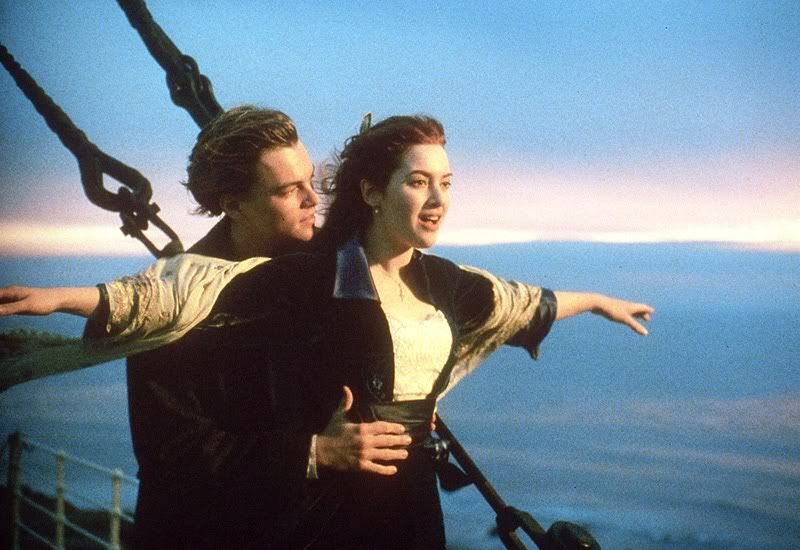 *Gives reader a mean­ing­ful look*
And we all know what hap­pened after that scene…
I think it's safe to say I'm no 
Global Vagabond
. Regard­less of my unre­al­is­tic travel fears, I love hear­ing travel sto­ries. Kirsten Hubbard's care­ful descrip­tions of Cen­tral Amer­ica were vivid, easy to visu­al­ize and allowed me the abil­ity to live vic­ar­i­ously through Bria. I could pic­ture the Mayan cul­ture, the jun­gle, the heat, the rides on the chicken buses, and the bluest waters. From the moment Bria stepped off her plane I could pic­ture it all.
I really loved how the set­ting went hand in hand with the plot. When Bria first arrives in Cen­tral Amer­ica, she is imme­di­ately dis­ap­pointed in her tour group. Every­thing is planned out for her from the group's activ­i­ties to the food they eat. Once an oppor­tu­nity to ditch them arises, at first she is appre­hen­sive, but she wants to prove her­self to all her  doubters back at home that she can do this. Each new loca­tion she vis­its brings back flash­backs from her past describ­ing her rea­sons for giv­ing up her art and going on this trip.  I didn't real­ize how engrossed I was with the story until the cli­max hit and I felt my heart miss a beat.  It was eas­ily the best scene for me because it made me incred­i­bly happy and then immensely sad shortly after. Those two extreme emo­tions back to back nearly did me in. I hope Hub­bard is happy… secretly I think that was all a part of her plan. Well done!
The Char­ac­ters:
The true treat for the reader lies with the beau­ti­ful draw­ings found scat­tered through­out the story all drawn by Hub­bard her­self. It was inter­est­ing because not only does the reader see Bria's char­ac­ter growth through her nar­ra­tion and actions, but also through her art. At first, they start off very delicate-like as Bria begins the jour­ney. But, as the trip wears on, you can see the art chang­ing, evolv­ing into more com­plex draw­ings with more time spent on shad­ow­ing tech­niques and other details. Bria goes from uncer­tain to a con­fi­dent renewed per­son by the end of the novel. You can't help but to feel sorry for. Yet, at the end I felt proud of her. She's the type of char­ac­ter you want young girls to read about and learn from.
Rowan, the love inter­est, too was a lost bro­ken char­ac­ter. Through­out most of the novel he retains his phi­los­o­phy of
Wan­derlove
, which basi­cally entailed run­ning from your past. And Rowan def­i­nitely has a darker past he con­stantly tries to avoid. There was a cer­tain sweet­ness to watch­ing Rowan and Bria's friend­ship blos­som. Hub­bard took her time devel­op­ing it. There was noth­ing rushed about their rela­tion­ship because as they fall for one another, they healed each other as well.
Star­ling was an inter­est­ing char­ac­ter.  Though she leaves Rowen and Bria early on in the story, she main­tains a cer­tain pres­ence too. I can't really talk too much about her char­ac­ter with­out giv­ing away spoil­ers, but she was a crafty one.
The end­ing:
The end­ing was so very fit­ting. I love how things are tied up, yet remains open at the same time. One thing you are sure of is that Bria has emerged a new per­son ready to move for­ward with her life and finally shed her­self of past issues. I was sad when it ended and I have a pretty good feel­ing I'll be revis­it­ing this book soon again.
Between the witty writ­ing, beau­ti­ful illus­tra­tions, and deep mes­sages,
Wan­derlove
is not to be missed in 2012.
ARC was pro­vided by the pub­lisher via Net­Gal­ley. No money or mer­chan­dise was exchanged for this review. Kirsten Hub­bard is a GoodReads friend of mine, but you can count on these being my absolute, hon­est views of the book!
More reviews and more at
Cuddlebuggery Book Blog
.